Accessing multiple Azure DevOps Organizations from the same PC
I am not sure if this is a common problem. It was difficult to find forum posts or articles on the exact issue.
I use many Azure DevOps organizations on a daily basis, some are attached to the Microsoft corp. Azure AD tenant, a customer's tenant, or using my personal Microsoft Account (aka Live ID)
Even though I use the Git Credential Manager for Windows, it is common to get the following error when using a personal repo.
git pull
remote: TF401019: The Git repository with name or identifier Wyam-Blog does not exist or you do not have permissions for the operation you are attempting.
fatal: repository 'https://dev.azure.com/tylerd/Blog/_git/Wyam-Blog/' not found

Near as I can tell, a silent process in the background is authenticating to Azure DevOps using my corporate account (logged into my PC), acquiring a PAC (Personal Access Token), and storing the token in the Windows Credential vault. However, the problem is I don't want to use my corp credentials when accessing my personal projects.
If there is a better way to configure this, or git command to run, please leave a comment below, but for now I will fast-forward to a workaround.
Workaround
If you open the Windows Credential Manager after attempting to access the repo, you will notice that the Git Credential Manager has added a "Generic Credential" to access Azure DevOps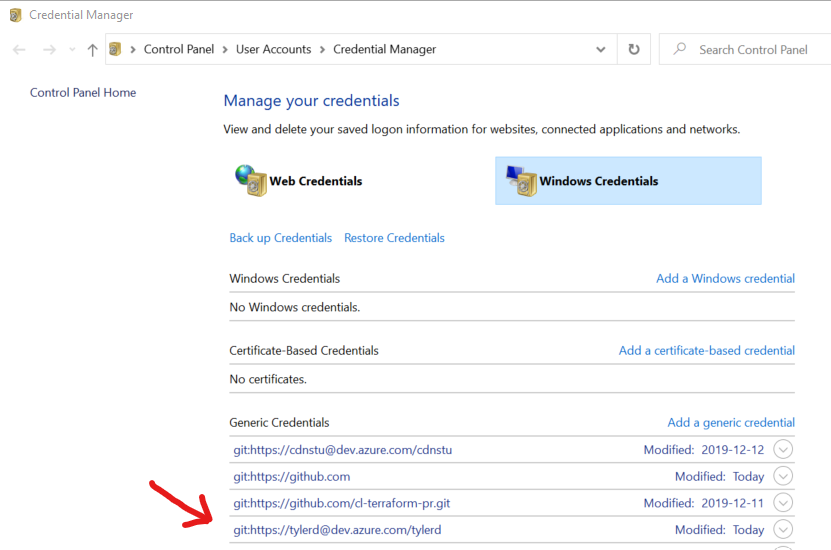 Get new PAC
Login to the Azure DevOps project you are trying to access.
Under your user settings, open the Personal access tokens screen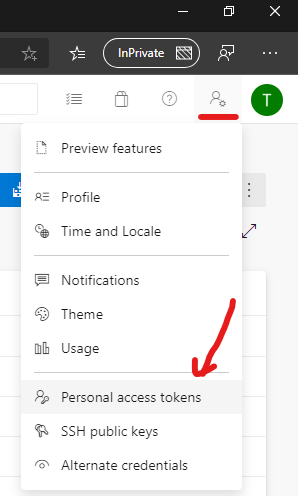 Create a new token
Set the permissions, for the Git CLI you mainly need Code: Read & write
Copy the new token value
On you PC, open Control Panel > Credential Manager
Switch to Windows Credentials
Under Generic Credentials, find the Azure DevOps organization credential that was created. In my case that was "git:https://tylerd@dev.azure.com/tylerd"
Click Edit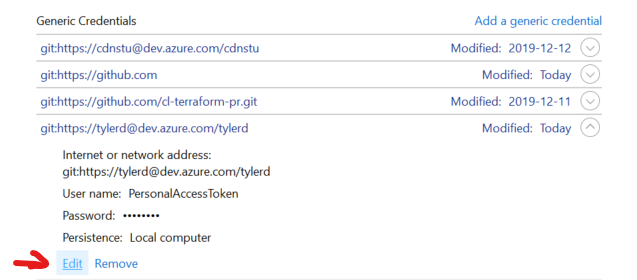 Replace the Password with your new Personal Access Token
Click Save
All done!
Try running the Git command again and you should have access to your repo.
Comments